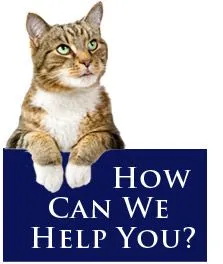 HOW CAN WE HELP YOU?
Cat Wellness Services
Preventive Health Care
The key to a happy and healthy cat includes annual exams and vaccinations to maintain good health.
New Kitten Check Ups
Senior Cat Wellness
Comprehensive Annual Physical Exam
Internal Parasite Testing
Heartworm & Flea Control
Annual Vaccination Shot Program
Laser Therapy Services
With our new Cold Laser we can offer the latest in Laser Therapy which is everything from post op treatment to help surgery sites heal faster, treatment of skin ailments, to relief of arthritis complications.
Dental Services
Dental disease can affect your cat's comfort and compromise vital organs.
We provide professional dental cleaning to insure your cat's excellent health.
Laboratory & Diagnostic Services
When your cat is ill, finding answers is primary.
Full Blood Workups for all Life Stages
Ultrasound
Surgical Services
We provide surgical services for routine and emergency situations. Your cat will receive continuous care from our staff during their stay.
Grooming Services
Having your cat professionally bathed and groomed on a regular basis is important for healthy skin and fur. Regular grooming promotes healthy skin and is a good way to keep an eye on injuries, skin infections, tumors, fleas, ticks and other parasites.
Lion Clip: We are known for he artistry of our famous Lion Clip
Microchip Identification
We recommend micro shipping your cat to ensure a quick return home, if lost.
International Microchiping available for all overseas travel.
Nutritional Products and Consultation
We can help you determine the best food for your cat for every life stage, from kitten to senior. Feeding your cat the right diet can add years to their life, and save money on overall vet expenses. We provide the best possible products and advice in cat nutrition: Royal Canin, Hills, Iams, Purina and others. We can offer diest that help with conditions such as:
Diabetes
Joint Disease
Obesity
Food intolerance and Food Allergies
Kidney Disease
Thyroid Disease
Gastrointestinal Upset